Walnut-Crusted Cod with Raisins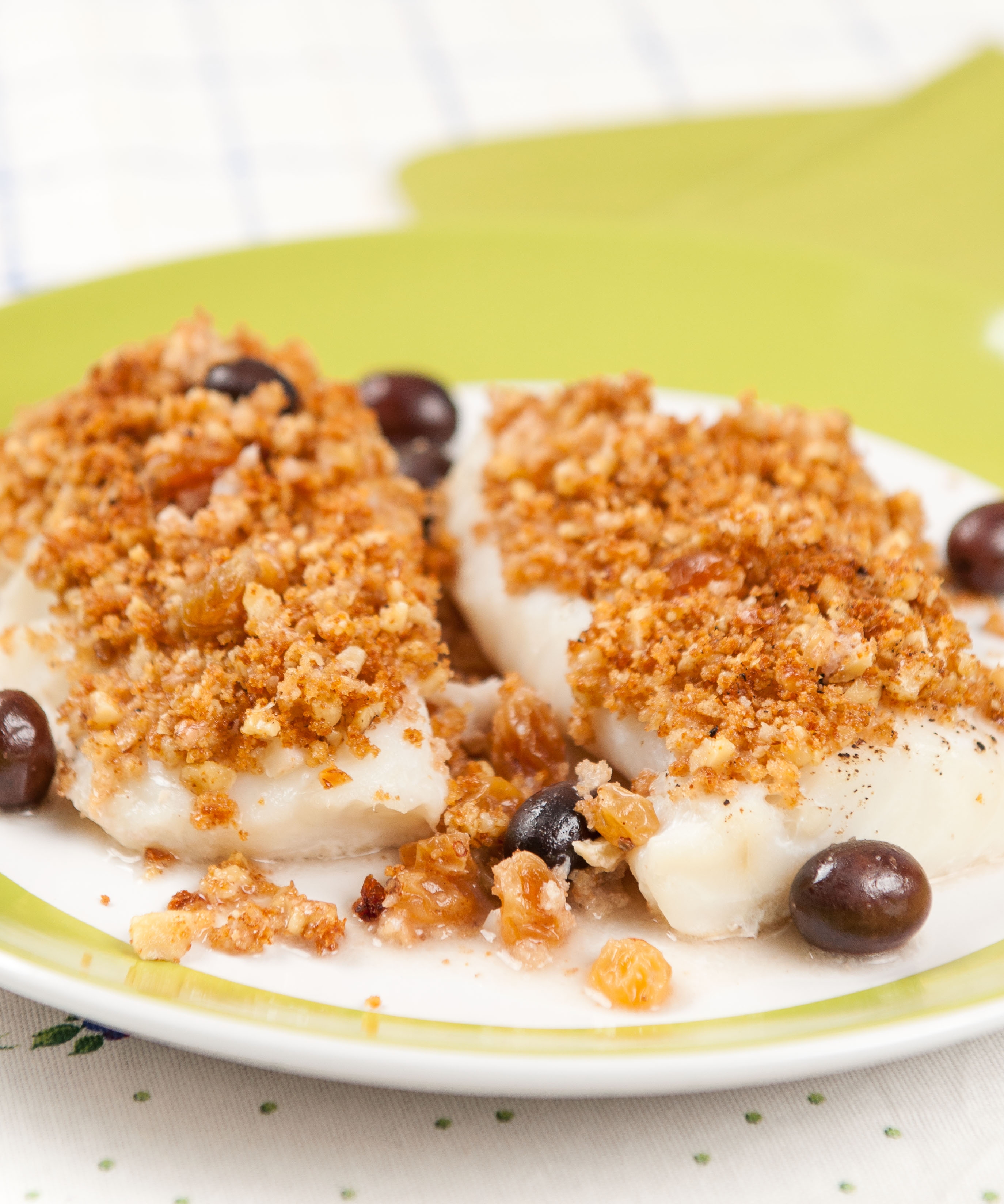 1½ lbs (680 g) fresh thick cod fillet
¼ cup spelt or whole wheat dry breadcrumbs
2 tbsp golden raisins
¼ cup walnut pieces, finely chopped
1 tbsp freshly grated Parmigiano-Reggiano cheese
1 tbsp extra-virgin olive oil
Sea salt and freshly ground black pepper to taste
¼ cup white wine
12 small black olives (like Gaeta variety) in brine, rinsed and drained
3 tbsp chopped fresh parsley
Cut cod fillet into four pieces. Preheat oven to 350°F.
In a small non-stick skillet, add breadcrumbs and toast on medium-low heat, stirring frequently until lightly golden, about 3 to 4 minutes. In the meantime, soak raisins in hot water for 10 minutes. Drain and set aside.
In a small bowl, combine breadcrumbs, walnut pieces and cheese. Drizzle olive oil over mixture and toss until mixture is moist and crumbly.
Coat a 9 x 9-inch baking dish with cooking spray. Season cod pieces lightly with salt and pepper and place in baking dish in a single layer. Drizzle with white wine.
Spoon breadcrumb-walnut mixture evenly over piece of fish and gently press down. Scatter raisins and olives around cod. Bake until fish is opaque in the centre and flakes easily with fork, about 15 minutes. Reset oven to broiler setting and cook fish about 1 to 2 minutes until topping is golden brown. Top with parsley and serve.
4 Servings
30 min or less | Meatless
PER SERVING 277 CALORIES | 11 G TOTAL FAT (1 G SATURATED FAT) | 64 MG CHOLESTEROL | 250 MG SODIUM | 13 G CARBOHYDRATE | 2 G FIBER | 29 G PROTEIN
All Rights Reserved. No part of this excerpt may be reproduced except with permission in writing from the publisher.