Stuffed Mushroom Caps (Funghi ripieni)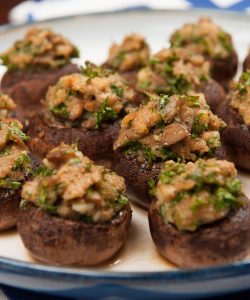 1 pkg (227 g/8 oz) cremini or white button mushrooms
1 tsp extra-virgin olive oil
1 tsp light butter
2 cloves garlic, minced
1 slice (1.6 oz/45 g) whole-grain bread (crust removed), crumbled
1 egg white
¼ cup minced fresh parsley
1½ tbsp freshly grated Parmigiano-Reggiano cheese
Freshly ground black pepper to taste
Sea salt to taste
4 tbsp reduced-sodium vegetable broth
3 tbsp white wine
Preheat oven to 375°F.
Remove the stems of mushrooms and finely chop them up and set aside. Keep mushroom caps separate.
In a small non-stick skillet, heat olive oil and butter over medium-high heat. Add garlic and mushroom stems and sauté until softened, about 3 to 4 minutes. Cool slightly.
In a small bowl, add mushroom-garlic mixture along with bread pieces, egg white, parsley, cheese and black pepper. Use your fingertips to combine and work in all the ingredients.
Sprinkle mushroom caps with a little salt and fill each one with about 1 tsp of filling, pressing it in slightly with the back of the teaspoon and rounding the filling on the top.
Combine broth and white wine and pour into a small baking pan. Add stuffed mushrooms in a single layer. Bake until mushrooms are tender, about 15 to 20 minutes.
4 Servings | 40 min or less | Meatless
PER SERVING  103 CALORIES | 5 G TOTAL FAT (1 G SATURATED FAT) | 3 MG CHOLESTEROL | 148 MG SODIUM | 8 G CARBOHYDRATE | 1 G FIBER | 5 G PROTEIN