Pistachio-Fig Dark Chocolate Bark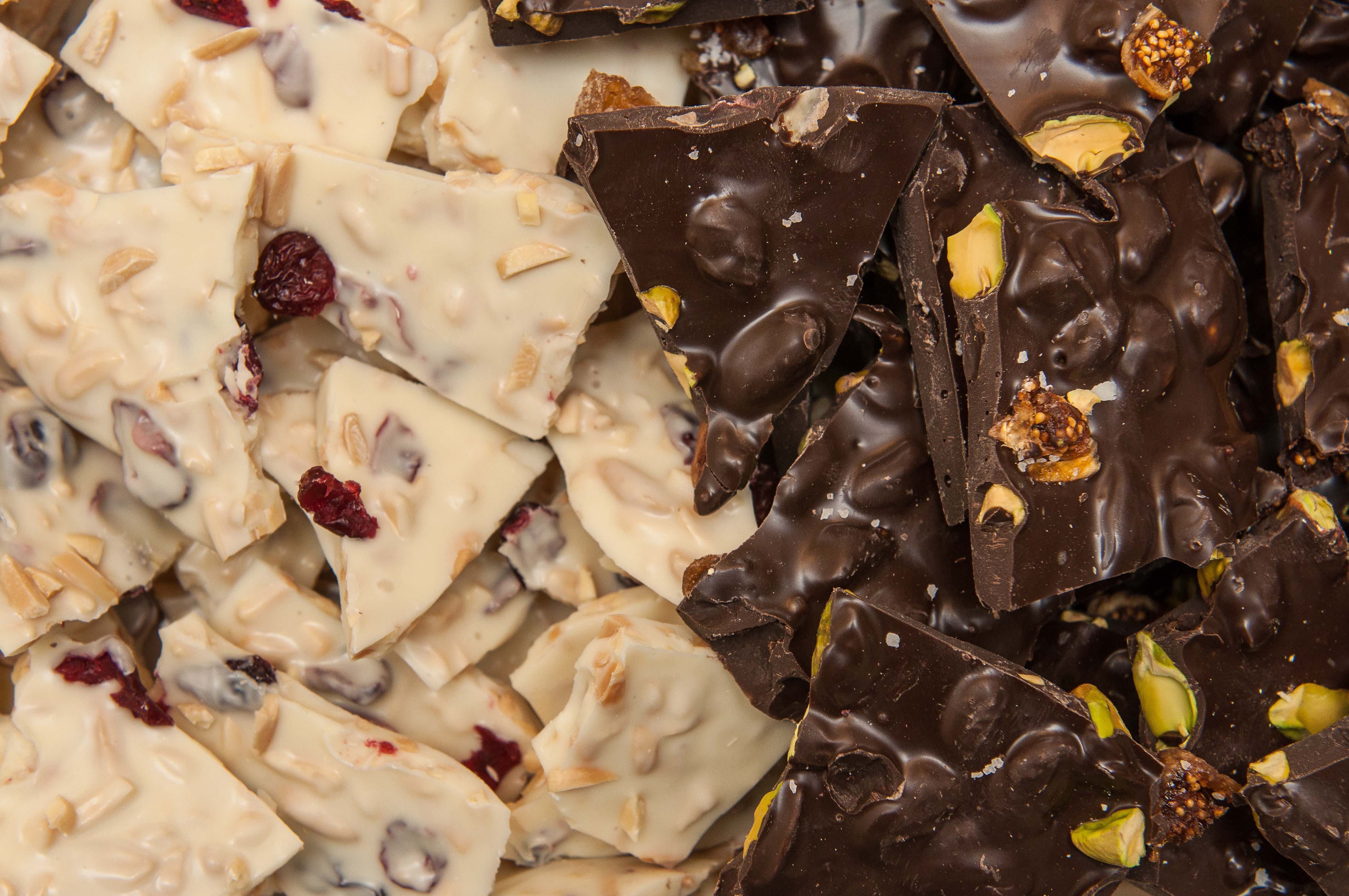 17.5 oz (500 g) dark baking chocolate (wafers)
1 cup shelled unsalted dry-roasted pistachios
1/3 cup packed finely chopped Turkish dried figs, stems removed
½ tsp coarse salt
Line a baking sheet with parchment paper. Reserve.
Bring a double boiler pot to a boil. Turn down heat to low. Add chocolate to top pot and stir until chocolate is completely melted.
Remove pot from the burner and stir in most of pistachios and chopped figs. Reserve about a tablespoon each of nuts and figs. Stir until they're fully covered in chocolate. Pour chocolate mixture onto parchment paper, spreading it thinly until it is about 1 cm (½ inch) thick. Be careful that water droplets from top tray of double boiler don't touch the chocolate. Sprinkle remaining pistachios and figs overtop chocolate. Let cool for 5 minutes – sprinkle evenly with coarse salt.
Place the baking sheet in a cool room like a cold cellar or in the refrigerator. Chocolate will set after about 30 minutes. Gently lift chocolate from parchment and break by hand into small pieces.
Store in a cool, dry area in an airtight container for up to 2 to 3 weeks.
VARIATIONS: Replace white chocolate for dark chocolate; toasted slivered almonds for pistachios; cranberries or chopped apricots for dried figs.
Makes 50-55 pieces
40 min or less
Gluten-free
PER PIECE(55)  69 CALORIES | 5 G TOTAL FAT (2 G SATURATED FAT) | 0 MG CHOLESTEROL | 21 MG SODIUM | 5 G CARBOHYDRATE | 1 G FIBER | 1 G PROTEIN
All Rights Reserved. No part of this excerpt may be reproduced except with permission in writing from the publisher.