Granola Almond & Cranberry Squares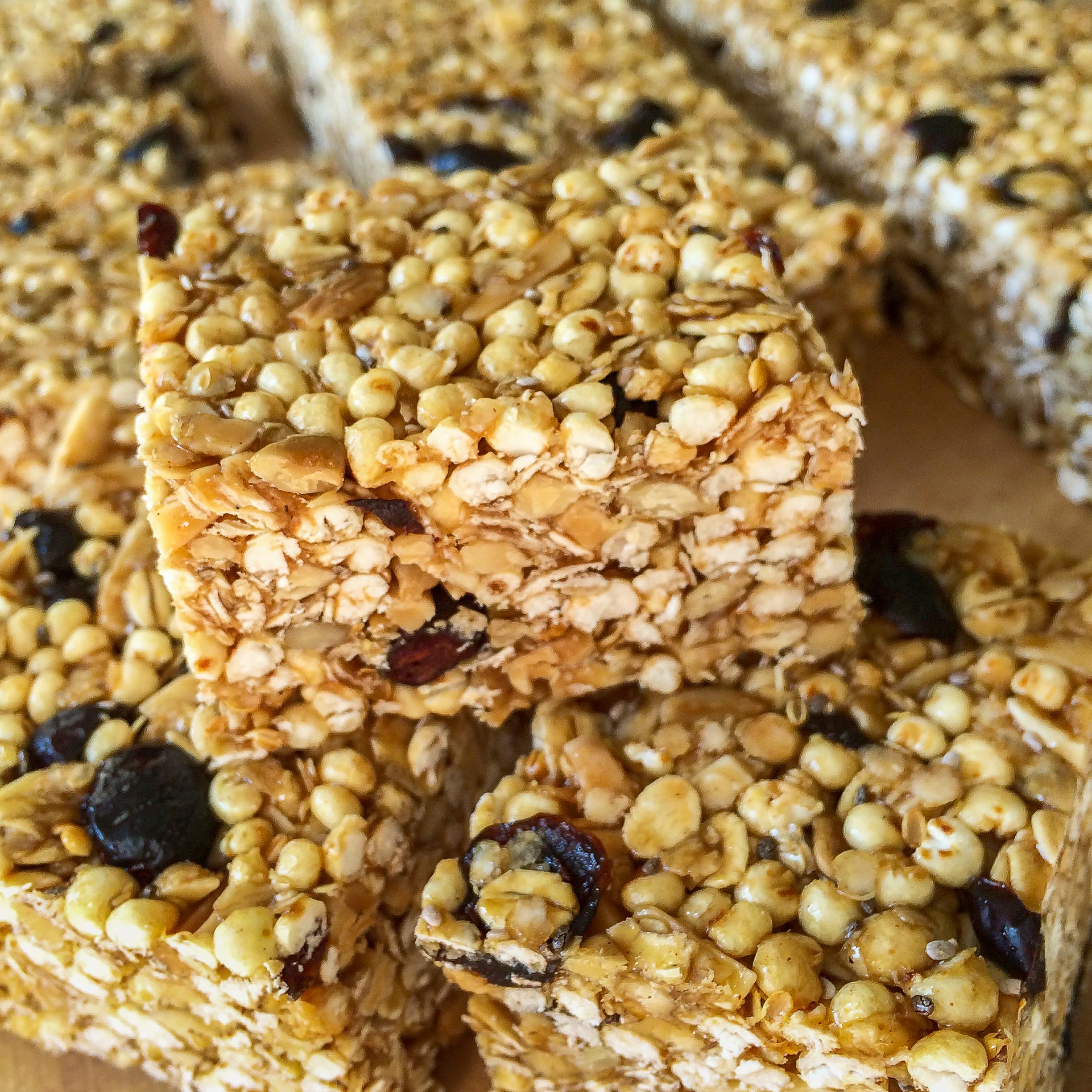 These whole-grain, gluten-free granola squares are a great snack to pack or to serve after school.
1 cup slivered almonds (see TIPS)
¾ cup old-fashioned rolled oats
1½ cups millet puffs
½ cup quinoa flakes
½ cup dried unsweetened cranberries
3 tbsp toasted unsalted sunflower seeds
2 tbsp chia seeds
½ cup coconut palm sugar
1/3 cup liquid honey
3 tbsp unsalted butter, cubed (see TIPS)
 1 tsp pure vanilla extract
 ½ tsp ground cinnamon
 Pinch salt
Preheat oven to 350°F.
Coat an 8-inch (2L) glass or ceramic square pan with cooking spray. Set aside.
Place almonds in a single layer on a baking sheet and toast in preheated oven until fragrant, about 7 to 8 minutes. Let cool and chop. Set aside.
Spread out rolled oats on a baking sheet and lightly coat with cooking spray. Bake for 5 to 6 minutes, until lightly browned. Let cool.
In a large bowl, combine millet puffs, quinoa flakes, cranberries, sunflower seeds and chia seeds. Toss well and set aside.
In a medium pot, combine coconut palm sugar, honey and butter; bring to a gentle simmer over medium-high heat. Remove from heat and whisk in vanilla, cinnamon and salt.
Pour syrup evenly over grain-seed mixture. Stir until well blended. Spoon out mixture evenly into the prepared pan. Place a piece of parchment on top of mixture and press down firmly with hands or smaller flat pan to fill in gaps. Refrigerate for up to 2 hours or overnight.
Wiggle out whole piece from pan onto a cutting board. Cut evenly into squares. Store squares in a tight, sealed container lined with parchment in refrigerator for up to 1 to 2 weeks.
TIPS:
* You can substitute walnuts or pecans for the slivered almonds.
* For a dairy-free, vegan alternative, I use Earth Balance Vegan Buttery Stick or spread instead of butter.
Makes 16 squares | gluten-free | meatless | make ahead
PER SQUARE  149 CALORIES | 7 G TOTAL FAT (2 G SATURATED FAT) | 6 MG CHOLESTEROL | 1 MG SODIUM | 20 G CARBOHYDRATE | 2 G FIBER | 3 G PROTEIN
All Rights Reserved. No part of this excerpt may be reproduced except with permission in writing from the publisher.