Christmas Fig Cookies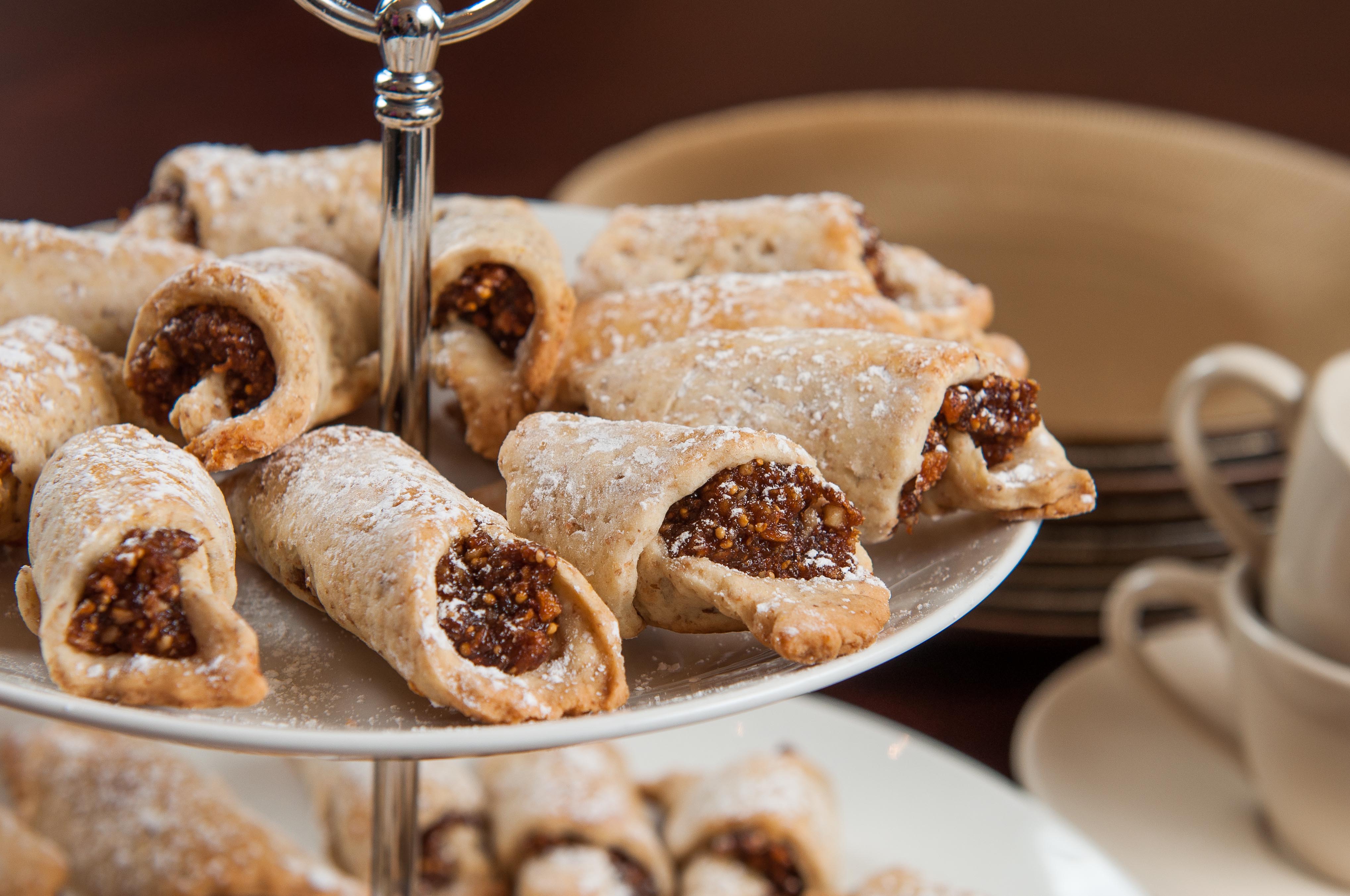 AS FEATURED ON CANADIANLIVING.COM
 Christmas was never a big gift-exchange holiday when I was young. Besides, my parents grew up with the tradition of receiving presents — usually limited to only one or two — on the Feast of the Epiphany on January 6, or on the 12th day of Christmas. At our house, it's always been more about the food and the edible "gifts" we bring to the table. It's about my mother's iconic lasagna, my dad's stuffed mushrooms, my sister's pomegranate salad, my brother's big bowl of mussels, the baked cardoons and, to top it all off, these delectable fig cookies. Even before our family plans the Christmas menu, we set a date to make these heavenly cookies, a long-standing tradition in our house. My parents, my kids, my niece – we all get in on the action, if not to get our hands into the dough or to pulse the chunky filling, then it's to be the first ones in line to taste them as they come out of the oven piping hot. With a sensory-awakening mix of ingredients like figs, oranges, almonds, cloves and chocolate, can you blame us for wanting to hold onto this ritual forever?
FIG FILLING
3 tbsp granulated sugar
½ cup water
10.5 oz (300 g) Turkish dried figs, stems removed and chopped
½ cup toasted unsalted whole almonds
Peel of 1 mandarin, finely chopped
1 tsp Amaretto liqueur
2 tsp unsweetened cocoa powder
1 tsp pure vanilla extract 
1 tsp ground cinnamon
¼ tsp ground cloves
2 tbsp reduced-sugar apricot jam
COOKIE DOUGH
2 cups cake & pastry flour
1 cup whole wheat flour
1 pkg (0.6 oz/16 g) Bertolini Lievito Vaniglinato (see tip)
1 pkg (0.3oz/8 g each) vanillin sugar
2 tsp ground flaxseed
½ cup trans-fat-free shortening (see tip)
½ cup granulated sugar
2 large eggs
Zest and juice of ½ lemon
1 tsp Amaretto liqueur
2 to 3 tbsp cold water
Egg white for brushing
To make filling, combine sugar and water in a medium pot and whisk until sugar fully dissolved; bring to a gentle boil. Set aside.
In the bowl of a food processor, add figs, almonds, mandarin peel, Amaretto, cocoa powder, vanilla, cinnamon and cloves. Pulse a few times, then slowly pour in half the sugar-water and whisk until it forms a chunky paste, about 2 to 3 minutes. Scrape down sides in between. Add fig mixture and apricot jam into pot with remaining sugar-water and stir on low heat until sugar-water is fully absorbed, about 8 to 10 minutes. Let cool for 1 hour or refrigerate overnight.
To make the cookie dough, combine flours, Lievito Vaniglinato, vanillin sugar and flaxseed in a large bowl and mix well.
Cream shortening and sugar in the bowl of a food processor fitted with pastry/dough blade. Add eggs, one at a time, and beat briefly after each addition. Add lemon zest and juice and Amaretto. Stream in flour mixture and 1 tbsp of cold water at a time if dough seems dry; process just until blended. Don't over-process or dough will be tough. Place dough in a greased glass or ceramic bowl, cover with plastic wrap and let rise for 1 hour.
Preheat oven to 350°F.
Working in batches, take a handful of dough, knead and roll out as thinly as possible to form a disk shape. Invert an 8-inch (20-cm) side plate and press into dough. Cut around plate with a sharp knife; remove dough around it. Cut circle into 8 triangles. Add 1½ tsp of filling at wide edge, flatten slightly and roll into a crescent. Place crescents 1 inch (2.5 cm) apart on a baking sheet lined with parchment paper. Brush tops with egg white.
Bake in preheated oven for 15 to 20 minutes, or until bottoms are golden brown and tops are lightly golden.
MAKE AHEAD: Make fig filling 1 to 2 days before and refrigerate.
TIPS:
* I use Earth Balance natural shortening, a plant-based shortening that is trans-fat free, dairy-free and gluten-free.
* Bertolini Lievito Vaniglinato is a premixed product that combines baking powder and vanillin. A suitable substitute is 3 tsp baking powder + 1 tsp vanillin (or ½ tsp pure vanilla extract). Find it next to the yeast in the baking section of a well-stocked grocery store. It's also available online.
HIGH IN…FIBER
Fresh or dried, figs are a terrific source of fiber, which aids in digestion and lowers cholesterol. Just three fresh figs provide more than 4 grams of fiber. Whole wheat and flaxseed added to the cookie dough boosts the fiber count. Together, the sweet fruit, along with almonds, are a terrific source of calcium.
Makes about 60 cookies
Dairy-free
PER COOKIE 69 CALORIES | 2 G TOTAL FAT (1 G SATURATED FAT) | 6 MG CHOLESTEROL | 21 MG SODIUM | 11 G CARBOHYDRATE | 1 G FIBER | 1 G PROTEIN
All Rights Reserved. No part of this excerpt may be reproduced except with permission in writing from the publisher.