Black Bean & Red Pepper Burger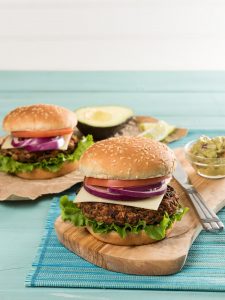 ¾ cup red bell pepper, roughly chopped
½ cup red onion, roughly chopped
3 to 4 cloves garlic, chopped
1 can (19 oz/540 mL) no-salt-added black beans, well rinsed and drained
1 egg
½ cup rolled oats
1 tbsp salsa or chunky tomato sauce (optional)
1 tbsp chopped fresh parsley
1 tsp cumin
¼ tsp sea salt
Freshly ground black pepper
Slices of tomato, avocado and lettuce leaves for garnish
Preheat grill to medium-high setting.
Place red bell pepper, red onion and garlic in the bowl of a food processer and pulse a few times until finely minced. Drain any excess liquid. Scrape down sides and add black beans. Pulse again until mixture is well combined and forms a chunky paste (don't overprocess or mixture will be too mushy).
In a large bowl, beat egg. Add bean mixture and stir in remaining ingredients (except garnishes) to bowl. Refrigerate mixture for at least 30 minutes to 2 hours.
Divide mixture into six patties and place on a sheet of foil that has been lightly greased with cooking spray. Place patties on foil on preheated grill rack and grill for about 7 to 8 minutes on each side. Garnish burgers with tomato, avocado slices and/or lettuce.
Makes 6 patties | 30 min or less | gluten-free | meatless
PER SERVING  62 CALORIES | 1 G TOTAL FAT (0 G SATURATED FAT) | 31 MG CHOLESTEROL | 33 MG SODIUM | 8 G CARBOHYDRATE | 2 G FIBER | 3 G PROTEIN
All Rights Reserved. No part of this excerpt may be reproduced except with permission in writing from the publisher.